100% Renewable Electricity
Supplying our electricity with net-100% renewable is a major part of Park City's transition to become a carbon neutral community. It will effectively decarbonize our municipal operations by 39%, and community-wide emissions by 34%.
Not only does renewable energy emit drastically fewer carbon emissions as it produces electricity, it will transform Utah's economy, produce jobs and provide stable electricity. It will also clean the air as we transition our homes, buildings, and transportation to fully electric. Renewables are becoming cheaper than fossil fuels. Renewable energy has plunged is price, and now is competitive, and often cheaper, when compared to traditional coal and natural gas generation. Renewable electricity often has zero cost fuel. The sun and wind don't ever send a bill. Compare this to traditional coal and natural gas generation, where the fuel price can fluctuate. PacifiCorp, Rocky Mountain Power's parent company, recently stated that thirteen of its twenty-two coal plants are uneconomic.
In addition, renewable energy keeps the dollars spent on energy close to home. Park City alone spends over $245M per year on energy, much of which ends up in unstable or even corrupt regions of the world. Imagine if that money was spent on local jobs, benefiting our local economy?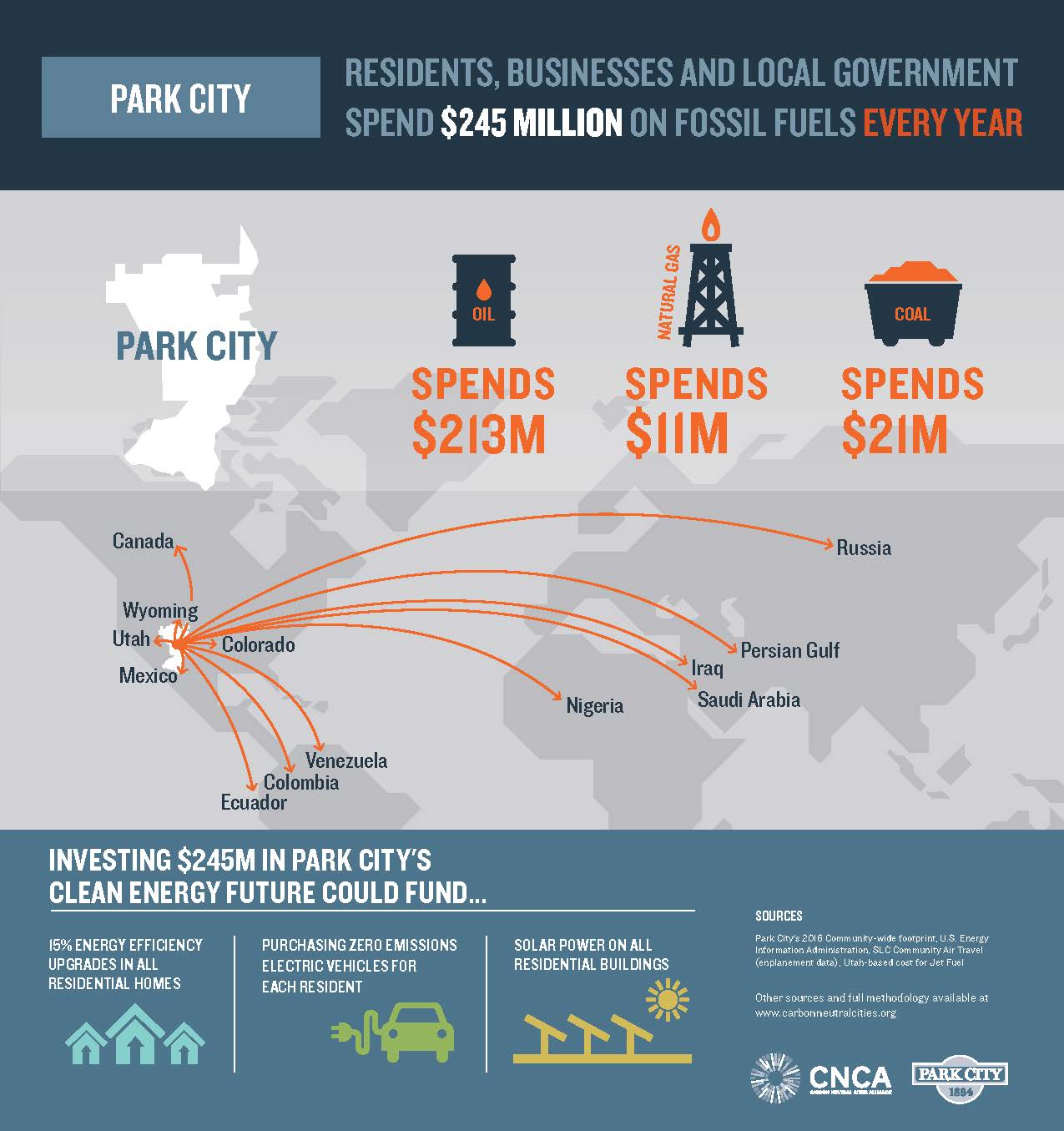 In 2016, Park City made the decision to work with the local utility, Rocky Mountain Power, to bring to the grid enough electricity generated by renewables to supply Park City on an annual basis. In 2019, the Community Renewable Act was signed in 2019. Since then, twenty-three other communities has since joined the effort, and have formed Utah 100 Communities. While Park City is a small community of only around 8,300 people, we believe we have the power to influence to create a pathway for other communities to transition to 100% renewables.