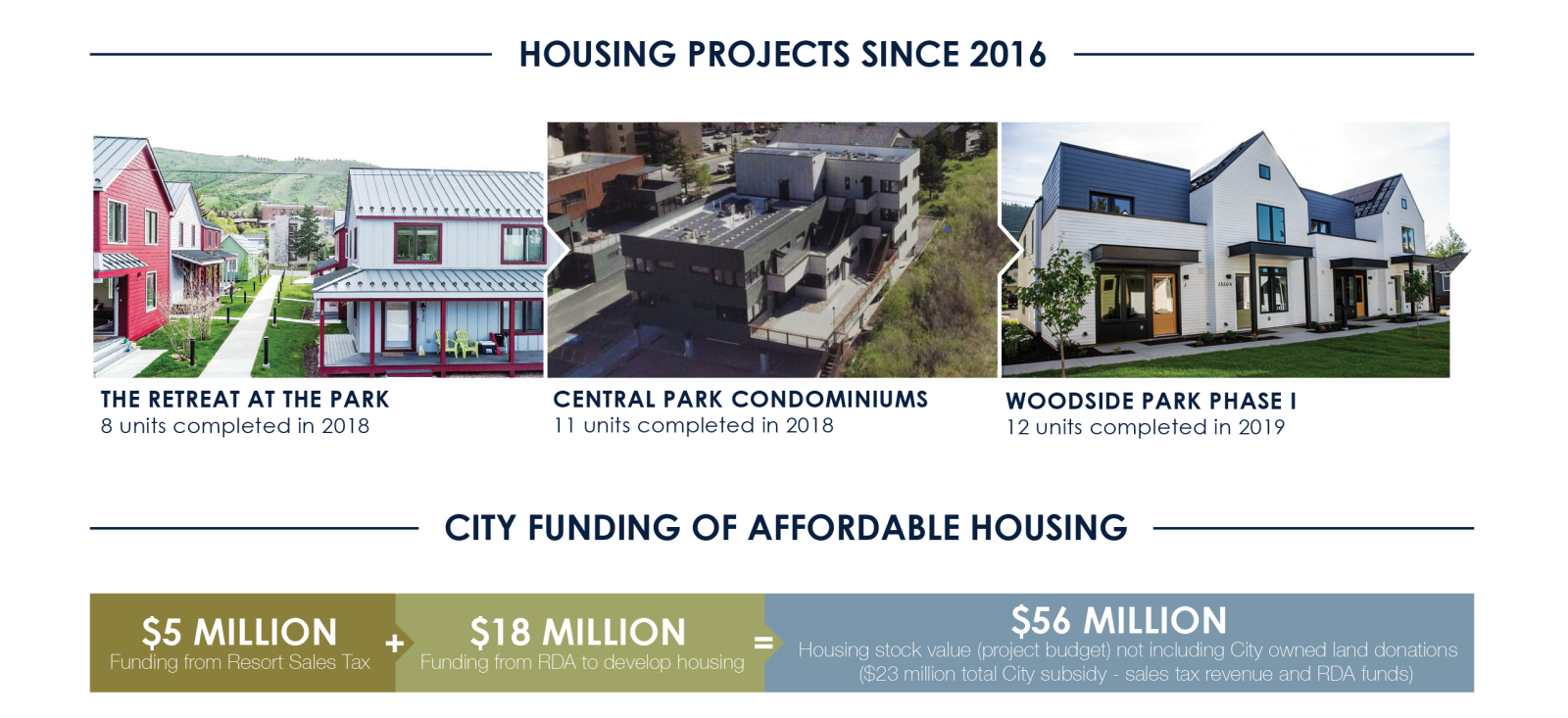 Pipeline Deed Restricted/Affordable Housing Projects
Park City Heights: Currently under construction, Park City Heights is being developed by Ivory Homes. The subdivision will have a total of 239 homes, 79 of which will be deed restricted affordable/attainable options. 68 units have been completed and sold. The final 11 units will be completed by 2025. Applications are accepted continuously. For more information and to submit an application, please contact Troy Goff with Ivory Homes at troyg@ivoryhomes.com or 435.729.0550.
To be added to the waitlist for the opportunity to purchase a unit, please fill out a pre-application at this link.
Existing Deed Restricted/Affordable Housing Projects
Woodside Park, Phase I: City-developed project completed in 2019, Phase I of Woodside Park consists of seven for-sale units and one rental property. The for-sale units include five affordable and two attainable.
King's Crown: Located on Lowell Avenue, the King's Crown affordable units were developed by CRH Partners and completed in 2020. Kings Crown includes a total of nine affordable and one attainable unit.
The Retreat at the Park: Built by Park City Municipal, the Retreat at the Park was completed in 2018 and features eight single-family homes that abut City Park. Two of the units are refurbished historic homes.
Central Park City Condos: Located in Park City's Prospector neighborhood, this project was completed in 2018. The eleven owner-occupied units overlook Park City's rail trail.
Iron Horse Transit Housing: The Iron Horse Transit Housing project was completed in 2013. This project, which consists of thirteen rental units, was built by the City with grant funding from the Federal Transportation Administration.
Black Rock Ridge: Built in 2011, one building of 17 owner-occupied affordable units is located in Black Rock Ridge as a result of a developer housing obligation.
Silver Meadow Estates: Built in 1996, Silver Meadow Estates consists of 49 duplexes, 19 of which are owner-occupied and 30 are rental units. These were funded by a public/private partnership in conjunction with a developer housing obligation.
The Line Condos: Line Condos were built by Mountainlands Community Housing Trust in 2006. This affordable housing development includes 22 one and two-bedroom, owner-occupied condos.
Silver Star Plaza Condos: Built in 2008, there are a total of 20 owner-occupied affordable units consisting of studios, one, and two-bedroom condos.
Prospector Square Condos: The Prospector Square Condos are part of a large multi-building project built in the 1970s. In 2009, 23 studio units were purchased to fulfill a developer housing obligation. The units were recently purchased by the City to renovate and provide transit housing.
Snow Creek Cottages: Snow Creek Cottages were built in 2009 and consist of 13 owner-occupied single-family homes. Built by the City, these homes feature numerous energy efficiency measures including geothermal, photovoltaic solar panels, thermal solar and SIPS panel construction.
Habitat Replat Subdivision: Consisting of two single-family homes, this project was built by Habitat for Humanity on land donated by the City.
Empire Pass: Various rental units have been built in Empire Pass between 2005-2018. There are 16 total units as a result of a developer housing obligation.
1465 Park Avenue: Built in 1998 there are eight units, six of which are rental and two owner-occupied.
Iron Horse Park Apartments: This development consists of 94 rental apartments that were built in 1998.
Aspen Villas: Aspen Villas are located in the Prospector neighborhood and were built in 1997. The development, built by a private developer, is comprised of 88 two and three-bedroom rental apartments.
Washington Mill Apartments: Located in Old Town, the Washington Mill Apartments were built by a private developer in 1995 under a housing obligation. There are eight total rental units.
Holiday Village: Holiday Village was built in 1987 and is compiled of 80 one and two-bedroom rental units. These units were funded by a private developer, USDA RD funds, and a housing obligation.
Parkside Apartment: Built in 1980, Parkside Apartments consists of 42 rental units. Funding for this project came from a private developer, USDARD funds, and a housing obligation.