Parking Management Plan
Transportation Strategies and Parking Technology Project
Parking Services Mission
To support all critical priorities of Park City and serve as city ambassadors by engaging and building relationships with the community of residents, visitors, and business owners via an approachable, fair, and education-first customer service approach.
The History of Parking Management in Park City
Before December 15, 2017, parking was free in the Old Town area. There were inconsistent parking time limits, spotty enforcement, and confusing way finding/signage which results to increased congestion and vehicle miles travel due to drivers looking for parking. Free parking in Park City's most popular yet congested area did not support recommendations and strategies in the General Plan, Traffic and Transportation Master Plan, or the recently adopted Transportation Demand Management Plan which estimates that parking demand management can reduce vehicle miles traveled from between 10-15%. Lastly, private and public parking were not managed in a comprehensive manner which does not make the most effective use of the available inventory. As such, staff proceeded with the development of the Downtown and Main Street Parking and Management Plan.
Please read our FAQs about the Parking Management Project.
For an interactive map with parking locations and rules please view our Parking Locations Map.
PARKING PROJECTS AND CHANGES PER YEAR
Winter 2022/2023
Daytime Paid Parking
Paid parking hours will be extended to 8am-Midnight on a daily basis with dynamic parking rates applied. This is in response to paid and reserved parking plan at the ski resorts. More details to come!
Resident Parking Enhancements
With the onset or a paid and reserved parking program at Park City Mountain Resort, Park City Municipal is working to ensure parking impacts to residents and businesses are minimized.
Please take a few moments to review and provide your feedback regarding the proposed parking plan for you neighborhood.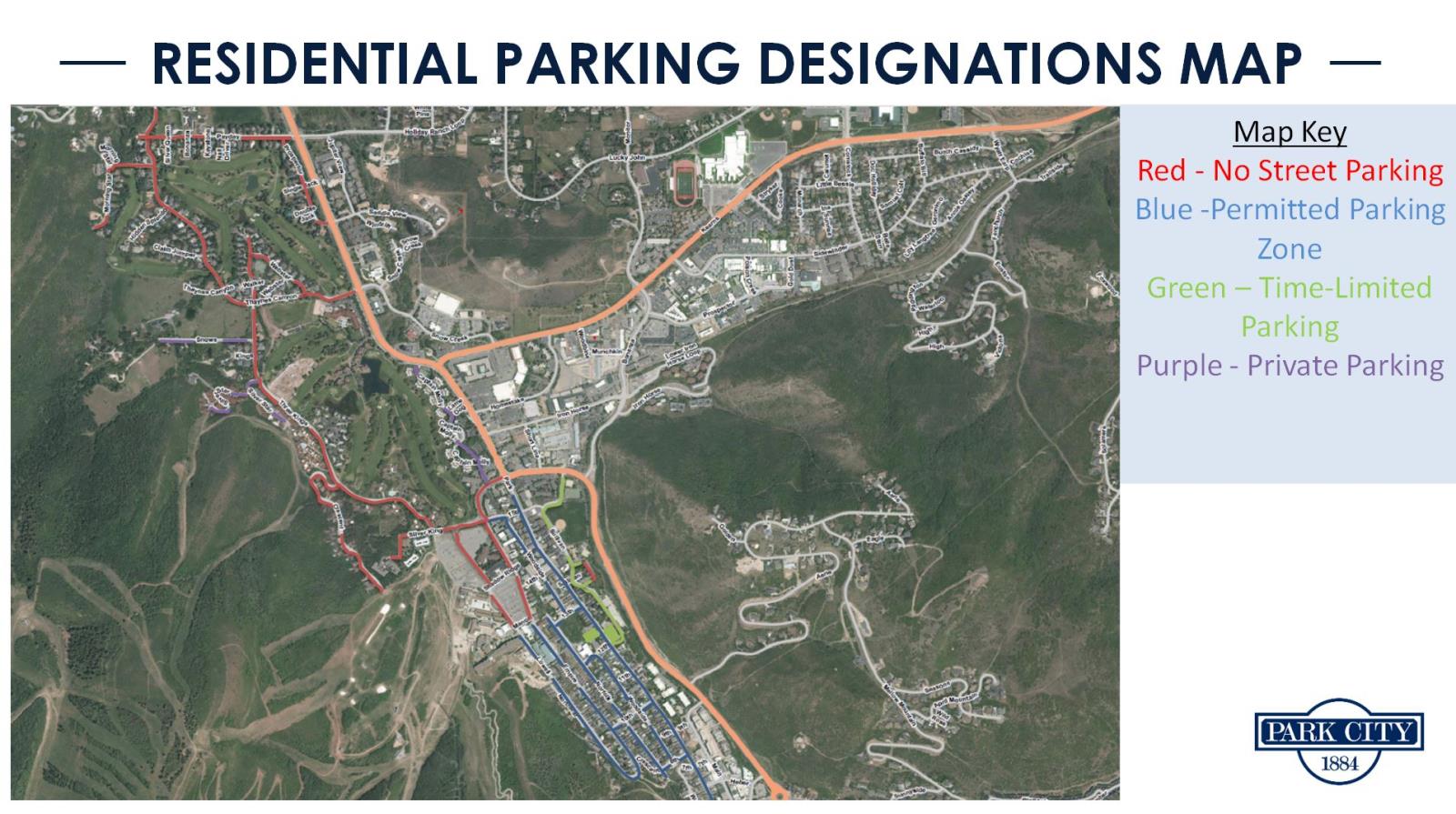 The main change will be consistent signage indicating No Street Parking in the Thaynes, 3 Kings, and Payday neighborhoods. Time-limited parking may be an option if on-street parking is still needed in certain areas. Seasonal parking restrictions is also an option.
The Prospector Neighborhoods are not anticipated to be highly impacted with the proximity of the High School park and ride, however, please provide concerns or feedback if you live or work in the Propsector areas.
Please include
feedback
and context if you feel your neighborhood is not represented in this plan and you have parking concerns for this winter season.
An interactive map may be found at:
https://www.google.com/maps/d/edit?mid=1qMe0c2VePb_9x7_FqTSvFEI9ZraluvA&usp=sharing
2022
Text2Park
Mobile parking payment is getting easier! While you can still pay with the GoParkCity app, we encourage you to check out GoParkCity-Text2Park - no app required! All the functionality and more of the app without needing to dong to download another app!
Just text PARCKITY to 25023 to see all available parking lots.
Explore here!
China Bridge Paid Parking Times
Paid parking has historically started at 5PM in the China Bridge parking garage with the first hour of paid parking sessions being free.
Paid parking in the China Bridge parking garage will now begin at 6PM and there will no longer be first hour free as of July 1st, 2022.
2021
MOBILE PARKING PAYMENT IMPROVEMENTS
Parking Services is exploring new mobile parking payment solutions to simplify paying for parking.
RESIDENTIAL AND OLD TOWN PERMIT IMPROVEMENTS
PARKING PERMITS HAVE GONE "VIRTUAL"
For 2021, most Old Town parking permits issued will be license plate-based instead of a hang tag or window cling. Individuals may link multiple vehicles to one parking permit. Only one vehicle from a linked permit may be parked in one permit zone/area at a time in order to be recognized as valid.
2020
CHINA BRIDGE PARKING TECHNOLOGY PROJECT
Park City Parking Services has simplified paid parking in the China Bridge parking garage by replacing the pay stations with the same type of equipment found in the rest of the parking lots in Old Town. This project was completed July 2020.
Please review the following FAQ's to learn more about this project

What has changed in the China Bridge garage?

Park City has changed the way you pay to park in China Bridge! Instead of taking a ticket and paying as you leave the garage, you will instead park, provide your license plate number, then pay upfront for parking using your personal phone or a conveniently located meter. (You may recognize these same meters on Main Street and in nearby Old Town surface lots.) There are no plans to change the "Free until 5pm", "1st hour free", or permit offerings in the garage. Vehicles found without payment, a permit, or validation will receive a parking ticket—similar to parking on Main Street.

Why did China Bridge change?

The gated system was confusing, expensive to maintain, and was not taking advantage of newer and more convenient parking technology. The new system is easier to use for customers, more flexible, and will provide significant savings to city resources.

How can I pay for parking using my smart phone?

It's easy! Download the free GO Park City app from the App Store or Google Play Store, enter your license plate, payment information, and the China Bridge zone number (4359). From there you can choose your length of parking session, and extend-by-phone if you end up needing more time.

What do I do if I don't have a smart phone or credit card?

Both cash and card payment options will be available at the physical meters located throughout China Bridge. Although payment via smart phone is an option, it is not required! Cash payment for parking may be made on the street level of the garage on Swede Alley.

How much does it cost to park in the China Bridge lot?

Parking costs may vary depending on time of year, or whether a large scale event in going on in town. However, rates are typically $1-$3/hour, free until 5pm daily, 1st hour of parking free. For specific rate info, please consult signage, meter graphics, and the GO Park City app.

I am a Main Street resident. How will my permit work with this new system?

Your permit will still grant free parking in the China Bridge lot, in addition to your license plate being registered in our system.

Will this cost Park City tax payers anything?

No. The Parking department is an enterprise fund which funds projects through parking revenue, not taxpayer money. Though there is a small cost associated with installing the new meter system, this cost is offset with the savings from transitioning this year. Operational savings will be significant and are in line with city-wide cost reduction efforts.

What happened to the validation system?

Though the old blue validation stubs are a thing of the past, our new system will allow for more flexible validation options including customizable codes. This gives us room for guest accommodations while making parking for city-wide events like City Council meetings easier and more inviting.

Will Main Street merchants be able to utilize the validation system?

There is no system in place at this time. However, the Parking department is working with the HPCA and other PCMC departments to implement a merchant validation system, made possible by this new technology installation in China Bridge and once paid parking is returned to Old Town.

Does China Bridge still provide ADA parking?

Yes. ADA parking in any paid lot in Park City is free for vehicles displaying a valid ADA credential (placard, license plate). Please ensure that your placard is fully displayed before leaving the vehicle unattended.

Is there a Main Street employee parking option in China Bridge?

Right now the free Carpool permit system is still in effect, and the Parking Department is working with Main Street businesses to devise more options for Main Street employees. Ultimately the new system offers even more options for future programs.

What if I park during the day while it's free and stay parked after paid parking starts at 5PM?

If you anticipate staying parked into the paid parking timeframe (5PM-Midnight) simply follow the instructions on the GoParkCity app or at any parking meter to "pre-pay" for parking. You will still get your first hour of your parking session for free and be charged for any additional time you are parked after 5PM.

How can I get support or submit feedback about Park City Parking?

If you are experiencing difficulty while trying to park, please contact our on-call officer at (435)640-6906 for immediate assistance. Otherwise, inquiries regarding this project or the parking program can be submitted using the "feedback" button below or directly to the Parking manager Johnny Wasden, Manager: johnny.wasden@parkcity.org;