Deer Crest Pump Station and Transmission Line
Park City Council has identified Energy as a Critical Priority for the City. In response, Park City Water identified improvements to the JSSD to PCMC water delivery system as an opportunity to significantly increase Park City's water system energy efficiency. The Project, completed in 2019, consists of two primary components:
New Deer Crest Pump Station
New Deer Crest to Bald Eagle Transmission Pipeline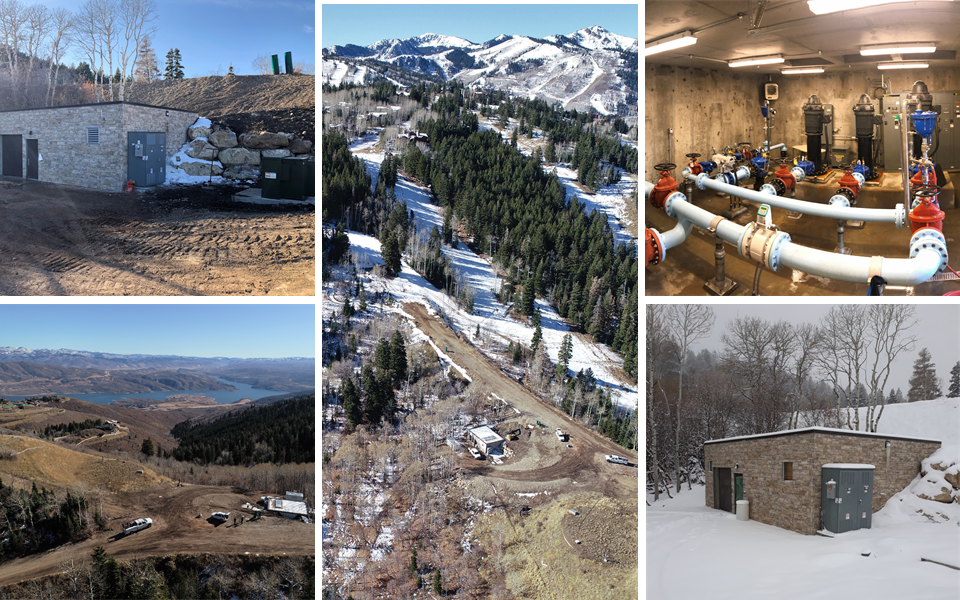 Project Description
The new Deer Crest Pump Station is a buried cast-in-place concrete structure that is equipped with pumps sized to deliver flowrates ranging from 500 gpm to 1,000 gpm.
The new 12-inch diameter water transmission pipeline conveys the imported drinking water from the new Deer Crest Pump Station to Park City's existing Bald Eagle Tank zone. The new transmission line is approximately one-quarter mile in length and is routed along Deer Valley Resort's "Kimberley" ski run.
Benefits
The Project affords the following benefits:
Energy Benefit: Reduces pumping demands between water tank zones by over 50%. This represents a total annual energy savings of approximately One Million kilowatt hours (1M kWh).
Better utilizes the available storage capacity in the Bald Eagle Tank
Affords JSSD an emergency connection from Park City's water to JSSD's water system.
Project Team
Planning, Design, Construction Engineering: Aqua Engineering
Contractor: VanCon Construction.
Project Costs
Planning, Design, & Construction Engineering Services: $209,963
Construction: $1,461,959
Other Costs: $15,077
Project Timeline
Planning for the project began in 2016.
Design was provided by Aqua Engineering and completed in 2018.
Construction was performed by VanCon Construction during 2018 and 2019.
The pump station and pipeline became operational in the late fall of 2019.