3Kings Water Treatment Plant - Rendering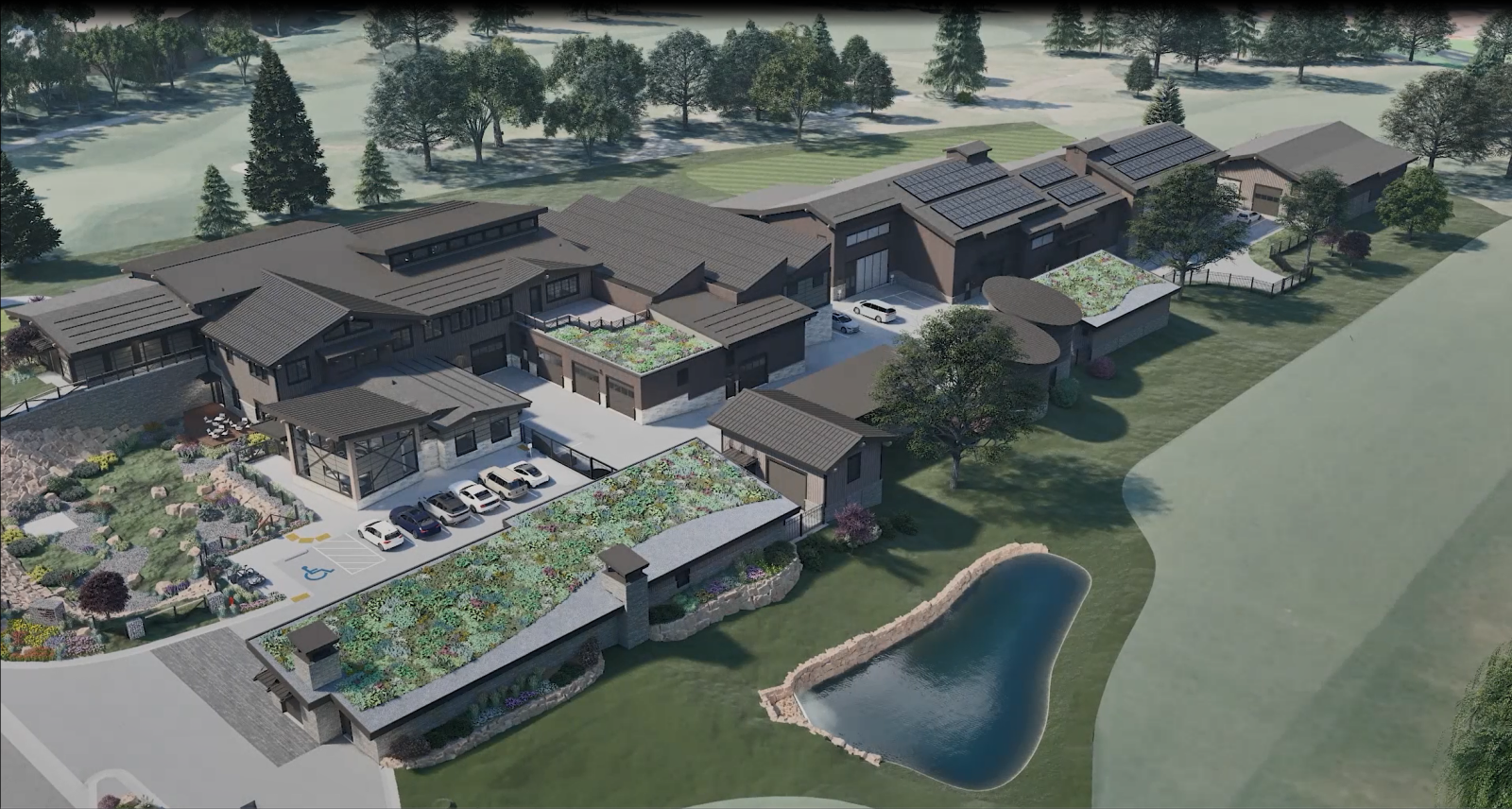 Project Photo - September 2023
Construction Impact Notifications - February 2023
3KWTP On-site Construction Work continues.
3KWTP Related Three Kings Drive Gutter Construction Work to begin in early spring 2023.
3KWTP Related Three Kings Drive Pipe/Pavement Repairs to begin in early spring 2023. Flagging or temporary traffic signals to be provided as needed.
Work is subject to change due to weather conditions, supply chain delays, and COVID-19 regulations.
Three Kings Drive - 3KWTP Construction Congestion Mitigation
As you are aware, the construction site is becoming very constrained, with still much to do as construction is being finalized through next spring, and our Construction Team is committed to remaining a good neighbor. Accordingly, we are implementing the following construction mitigation plan efforts:
Contractor is notifying all suppliers, deliverers, etc., to the site that vehicles shall not stage (park and wait) on Three Kings Drive or Thaynes Canyon Drive when delivering or leaving the site. They will await notification remotely until the site is ready to take delivery. This action has been previously implemented for concrete truck deliveries and has worked well, resulting in no complaints after implementation.
Contractor is examining the use of smaller delivery loads (smaller trucks). This may increase truck traffic but reduce congestion on Three Kings Drive.
A few major deliveries remain and unfortunately, due to the logistics, congestion at the site entrance is anticipated. These include deliveries for items such as standing seam metal roofing, exterior wall materials, and golf course sod. These deliveries can be scheduled in advance, therefore, we can notice everyone prior to the delivery and congestion. The Contractor will also work with Building and Engineering to obtain any necessary partial road closure permits.
On-site paving will continue through the spring and will require concrete trucks to enter the site and likely back out onto Three Kings Drive. Flagging will be provided, if necessary.
The contractor will continue to remove the construction trailers this spring. Again, this can be scheduled in advance and we will notify everyone prior to any congestion.
The upcoming removal/replacement of the gutter along the east side of Three Kings Drive will cause some congestion and can't be avoided. The Contractor will try to avoid major deliveries when this work is occurring. The Contractor will work with Engineering to obtain work in the right of way permits.
Paving of Three Kings Drive is scheduled for this upcoming spring/summer (2023), thus avoiding conflicts/congestion with the construction completion of the 3KWTP.
As outlined, unfortunately some congestion is expected. We feel, with the items identified above, that construction related impacts on Three Kings Drive can be limited to the area immediate to the 3KWTP site.
We are now in the final stretch and trust everyone will bear with us during this last push.
Project Activities - Spring/Summer 2023
CONTINUING WORK
3Kings Water Treatment Plant Construction
3KWTP construction continues and is on schedule. Work activities include:
Construction Mitigation
Construction mitigation (fencing, erosion protection, mud track off pads, etc.) are in place and will remain for the duration of the project.

The temporary pedestrian walkway adjacent to the project site and along the west side of Three Kings Drive has been removed and new sidewalk and gutter installed.

Efforts to prevent the tracking of debris off the site continue. As the season changes, road sweeping will be adjusted to address the changing conditions from mud to dust.
Site Construction
Building shells and roof structures for all eight buildings are now completed. Final roofing materials, windows, exterior siding, and stone veneer is being installed and is generally complete on six of the eight buildings.
Work inside the buildings will continue late winter through early spring. Start-up and testing of all building and treatment systems will occur from early spring to early summer.
Site yard piping is complete and site grading is underway. Site landscaping, fencing, paving, cleanup, and removal of construction trailers will occur as soon as the weather allows.
Construction is scheduled to be complete, water treatment operations to commence, and water administration to move onto the site in June 2023.
Three Kings Drive Roadway Work
Landscape restoration in the areas north of the 3KWTP site has been completed. New gutter in front of the 3KWTP will be installed in the spring of 2023. Pavement resurfacing of Three Kings Drive will be performed in 2023 by the Park City Streets Department as part of their annual paving program.
Golf Course Impacts
Restoration of all Golf areas, including Hole 11, is scheduled to be complete in mid-May 2023 and open for play as weather allows.
Construction Mitigation Goals
The following key construction mitigation items are contained in Park City's Conditional Use Permit and Building Permits. Park City Water is committed to meeting these items.
Working hours 7:00 a.m. to 7:00 p.m.
No staging, unloading, or deliveries within Three Kings Drive or adjacent streets
No parking on Three Kings Drive or adjacent streets
Installation of a pedestrian walkway on the west side of the Three Kings Drive along the Project frontage
Construction worker parking off-site and shuttled in and out daily
Noise Mitigation
Lighting Mitigation
Park City will monitor pavement condition of Thaynes Canyon Drive and Three Kings Drive and Three Kings Drive. Pavement maintenance to be performed on an as needed basis. Final paving will be performed following project completion.
Additionally, Public Information notices will be sent out in advance of significant work impacting the adjacent City streets occurring (i.e. large concrete pours involving a significant number of concrete trucks on the road, large equipment deliveries, or necessary water shutdowns)
The construction manager has developed a detailed critical path for the Project. The following milestones have been identified, however, the schedule is dynamic due to work production and issues such as weather and materials availability/deliveries.
| | |
| --- | --- |
| Work Item | Completion Date |
| Three Kings Drive Utilities - South Section | January 2020 |
| Construction Mitigation & Demolition | March 2020 |
| Silver Star Parking Lot Area | June 2020 |
| Deep Structure Excavation & Backfill | September 2020 |
| Three Kings Drive Utilities - North Section | October 2020 |
| Golf Course Pond Dredging & Utility Work | May 2021 |
| Building 600 - Gravity Thickeners | May 2022 |
| Building 700 - Pump Polymer | May 2022 |
| Building 200 - Flocculation/ Sedimentation | June 2022 |
| Building 400 - Disinfection/ Pumping | June 2022 |
| Golf Areas Reconstruct | June 2022 |
| Building 300 - Backwash Waste/ Filter/ Adsorption/ Dewatering | June 2022 |
| Building 500 - Electrical | July 2022 |
| Building 800 - Chemical | August 2022 |
| Building 120 - Micro-hydro | September 2022 |
| Treatment Plant Start-up, Testing, & Commissioning | October 2022 |
| Landscaping Complete | November 2022 |
| Building 100 - Administration | January 2023 |
| Substantial Completion | November 2022 |
| Final Completion | December 2023 |
The new 3Kings Water Treatment Plant will replace the current Spiro Water Treatment Plant to improve efficiency, increase water treatment capacity, meet regulation requirements, and replace existing aging infrastructure.
Project Purpose
In 2014 Park City was issued Utah Discharge Elimination Systems (UPDES) permits for the discharge of water draining from the Judge and Spiro mine tunnels into McLeod and Silver Creeks. Water from both tunnels exceeds stream water quality parameters identified in these permits.
Due to the cost and complexity of bringing this water into compliance with UPDES permits, a Stipulated Compliance Order (SCO) was entered into between the Utah Division of Water Quality and Park City. The SCO requires that Park City develop and implement a plan to bring discharge into compliance by the year 2024 for the Judge Tunnel and 2033 for the Spiro Tunnel.
In addition, the existing Spiro Water Treatment Plant is aging and will soon need significant investment to keep it operational. While the existing plant consistently produces high quality drinking water, it cannot treat to certain parameters in the UPDES permits, and it lacks capacity to maximize available water from the combined Judge and Spiro Tunnel water sources.
This project will demolish the existing Spiro Water Treatment Plant and construct the new 3Kings Water Treatment Facility in order to:
Improve water quality and reliability
Increase water treatment capacity to maximize use of available water from Judge and Spiro Tunnels
Increase overall City water supply resiliency and peak day capacity
Meet UPDES permits and Stipulated Compliance Order (SCO) for Judge and Spiro Tunnel water discharges
3Kings Water Treatment Plant
The redevelopment of the Spiro Water Treatment Plant will include:
New 3Kings Water Treatment Facility

3,000 gpm (4.1 mgd) Mining-Influenced-Water treatment capacity
1,500 gpm (2 mgd) Thiriot Springs water treatment capacity
48,000 sq ft total facility building footprint

Golf Course pond improvements

enhance water quality and storage capacity

Associated off-site utility improvements
New/ relocated Golf Maintenance Building
What is Mining-Influenced Water
What is Mining-Influenced-Water?
During the mining period in Park City's history, drainage tunnels were constructed at the lower elevations of the mine works to keep water within the mountain from interfering with the mining operations. These drainage tunnels, which contain trace metals from the natural soils and mining operations, discharged directly to the environment. Over the course of Park City's history, these waters have been used for various purposes such as drinking water, irrigation, and snowmaking. The water which exits existing mine tunnel entrances (portals) are referred to as Mining-Influenced-Water (MIW).
Why Treat Mining Influenced Water?
Metals in waste streams don't naturally degrade and are toxic to aquatic life, even at low concentrations. As part of the EPA's Clean Water Act, it has established that cleanup of mining-influenced-waters, such as those being discharged from the tunnels, is a significant environmental benefit. In 2014 the Utah Division of Water Quality (DWQ) and Park City entered into a Stipulated Compliance Order (SCO) which contained major milestones for treatment compliance and requirements on pollutant loadings related to the water discharges from the Judge and Spiro mine tunnels. Non-compliance with the terms of the SCO can lead to:
fines and operations interference from the State of Utah Division of Water Quality and the EPA:

continued stream degradation
Characteristics of MIW Treatment Design
Water treatment design is a process in which the raw water is analyzed and, based on the receiving water characteristics (stream designation by the DWQ) and the discharge requirements for the treated effluent (water to be discharged from the plant), the treatment process is established. The design is highly site specific and focuses on treatment efficiency, reliability, cost-effectiveness, and minimalizing such items as energy use, traffic impacts, maintenance, and personnel.
Characteristics of the tunnel water must be taken into consideration in terms of physical, chemical and biological characteristic. Sizing of the M-I-W treatment plant depends upon the flows collected within each drainage tunnel. Tunnel flows change from year to year and vary significantly from season to season. The new water treatment plant process has been developed through substantial studies, which included a year-long pilot-scale study to establish the treatment process and prove its effectiveness in removing metals in the tunnel raw water and a thorough evaluation of life-cycle cost and benefit.
The selected process is considered a multi-barrier approach and includes pre-oxidation, rapid mix/flocculation/ sedimentation (to remove specific particulate metals though precipitation), granular media filtration (to further remove iron and manganese from the water which may cause aesthetic water quality problems such as reddish and/or blackish staining of sinks/bathtubs or laundry), post-filter adsorption (where specific medias are used to remove targeted dissolved metals), and disinfection (for drinking water use).