LOWELL AVENUE UPDATE – June 2017

PROJECT CONSTRUCTION
Construction is well underway along Lowell Avenue. Crews have placed the new sewer and water lines in the Manor Way / Lowell Avenue intersection and are moving south along the road. The new sewer line is currently being placed between 12th and 11th Street. The new waterline is following closely behind. In addition, crews are making improvement to the drainage at 10th Street.
Utility work will continue through August. Installation of the new curb and gutter and resurfacing of the roadway will begin once all of the new utilities have been put in place.
For more information or to be put on the construction email update list, send an email to kim.clark@parkcity.org.
MEET THE CONTRACTOR INFORMATION MEETING
A public information meeting was held on April 6, 2017. For the information presented, please click on the graphic below.
The design has not changed and work will proceed as previously planned. For a project map showing the design, click here.
PROJECT OVERVIEW
The Park City Municipal Corporation is planning improvements to Lowell Avenue including upgrading utilities and roadway reconstruction. The project will run from Manor Way to the curve heading to Empire Avenue. The map below shows the project limits.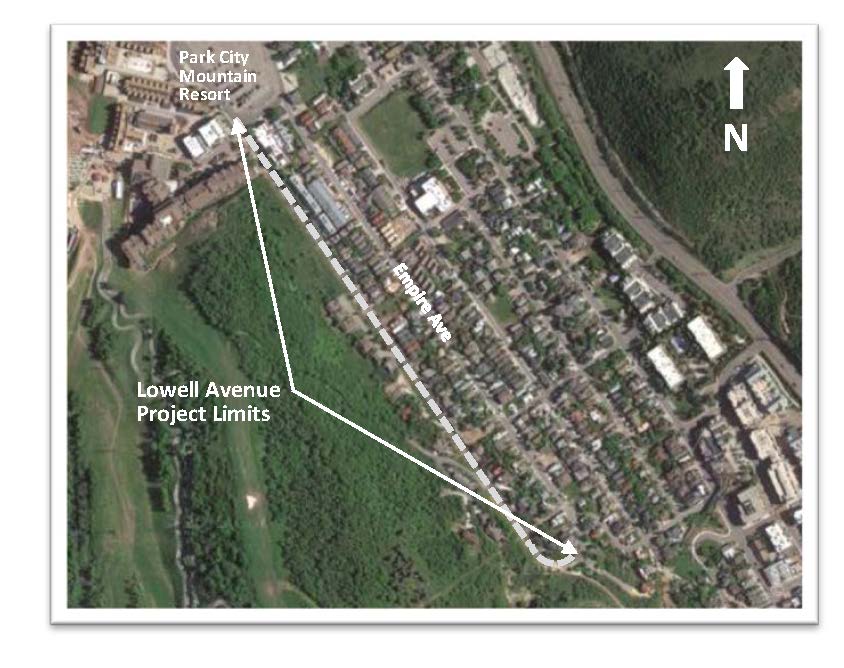 The upgrades to the current infrastructure will remain within the current right-of-way in order to minimize impacts to the adjacent property owners. The width and the layout of the road will change slightly due to this project. The specific improvements along the corridor will:
Replace the 50+ year old sanitary sewer line.
Upgrade the existing water distribution line including the service line connections and water meters to properties. Please note this is a different waterline from the transmission waterline that was placed in 2014. The transmission waterline was a time sensitive project that was completed using federal funds.
Improve drainage in the area.
Reconstruct the roadway pavement and gutter.
Provide new signage as identified.
Construction is scheduled to take place during the shoulder and summer seasons of 2017.
CONTACT INFORMATION
If you are interested in receiving project updates, please email Kim Clark at kim.clark@parkcity.org or contact her at 801.903.8327.