Transportation Demand Management Programs
WHAT IS TRANSPORTATION DEMAND MANAGEMENT?
Park City has adopted transportation as a Critical Priority for our community. We are focused on improving mobility options and the quality of life for those who work, live, and play in Park City by implementing big changes, new policies, and programs that help people change their travel behaviors.
Transportation Demand Management programs, we call TDM programs, offer incentives to encourage people travel differently. Park City uses various programs to incentivize walking, biking, riding transit, and carpooling.
The Transportation Demand Management Plan, adopted by Council in 2016, guides our work on providing options and incentives to chose modes of transportation other than driving alone.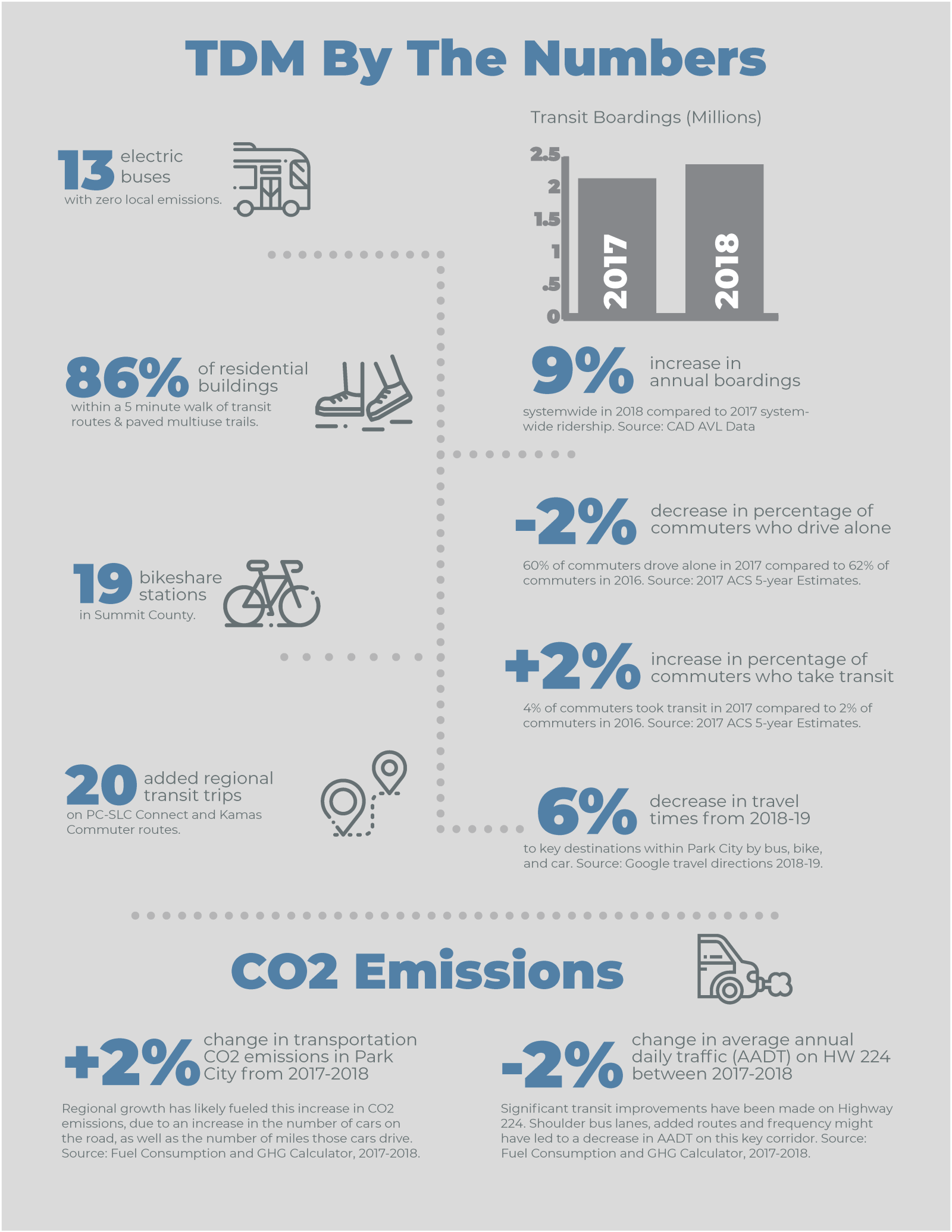 PROGRESS ON IMPLEMENTATION:
In October 2019, Park City Transportation Planning staff provided an update to City Council on our progress in implementing the TDM Plan. The following information was provided:
TDM Progress Report

This report highlights the strategies we've accomplished and currently maintain; the strategies in progress, and those not yet implemented. Staff have made considerable progress on implementing the projects and programs recommended by the TDM Plan; nearly two-thirds complete.

TDM Performance Metrics

This report indicates the performance measures we are tracking as suggested by the TDM Plan. This is not a comprehensive list of all metrics we track to monitor our progress and successes. The ones listed in this report also tend to focus more heavily on transit service and are not exhaustive in how we monitor and report on other modes like walking, bicycling and trail use.

Parking Data Summary

This report highlights the new data we've been able to collect as it relates to parking occupancy at our paid facilities. This helps staff better understand when, how much, and for how long paid parking is being utilized. This changes seasonally, as parking prices change, and as demand increases/decreases based on peak times and events.
Questions about Transportation Demand Management?
Austin Taylor
Transportation Planner
austin.taylor@parkcity.org