Ice pigging will be conducted in Park City's Thaynes and Iron Canyon neighborhoods, October 4-26, 2021.
Your water service may be impacted by more than one day of water main cleaning. If that is the case, we will notify you separately for each water service interruption.
What is Ice Pigging?
Ice pigging is an advanced water main cleaning technology used to remove accumulated metals from water distribution mains that were exposed to Judge and Spiro tunnel supplies with low level metals including arsenic, lead, thallium, iron and manganese.
The cleaning system uses a slurry of ice, called a pig, that travels through underground pipes, scraping the sides and pushing sediments out of an exit point, usually a downstream fire hydrant.
Additional Details
Based on pilot testing this technology in Thaynes and Old Town in 2013, it has 100Xs more scouring power to remove accumulated metals from pipe walls than current unidirectional flushing practices.
Park City does not currently use these tunnel sources for drinking water. Judge was removed from the City's water system in 2013 due to metals accumulation issues and Spiro Water Treatment Plant (WTP) in 2019 to make way for the state-of-the-art 3Kings WTP. The City waited until both sources were off-line to avoid any further metals loading before conducting this full-scale demonstration project, and before 3Kings WTP starts up.
Park City's Water Quality professionals actively manage risk regarding the potential for accumulated metals to be released by utilizing an industry recognized corrosion control practice.
We will be asking the public and businesses in the area not to use water during the time period when this work is being conducted in their neighborhood.
Work will be done between the hours of 9:00 a.m.-2:00 p.m. As a precaution, the City asks that residents and businesses observe the following measures during this time:

Finish water-using activities before 9:00 a.m. on the day(s) of the outage.
DO NOT USE WATER to avoid pulling some of the ice pig into your taps.
Set aside enough water for cooking and drinking.
Avoid flushing toilets and using the dishwasher or washing machine during this time period.
During and/or shortly after cleaning activities, you may experience discolored water. This is normal. Do not drink discolored water.
If discolored water is present flush running water through the fixtures until it runs clear. If discolored water is at multiple taps, follow detailed household flushing instructions on our website (and below) or through this video from Louisville Water.
In house water filters and treatment devices as well as outdoor irrigation filters and sprinkler heads are susceptible to clogging during the cleaning process and may also require flushing.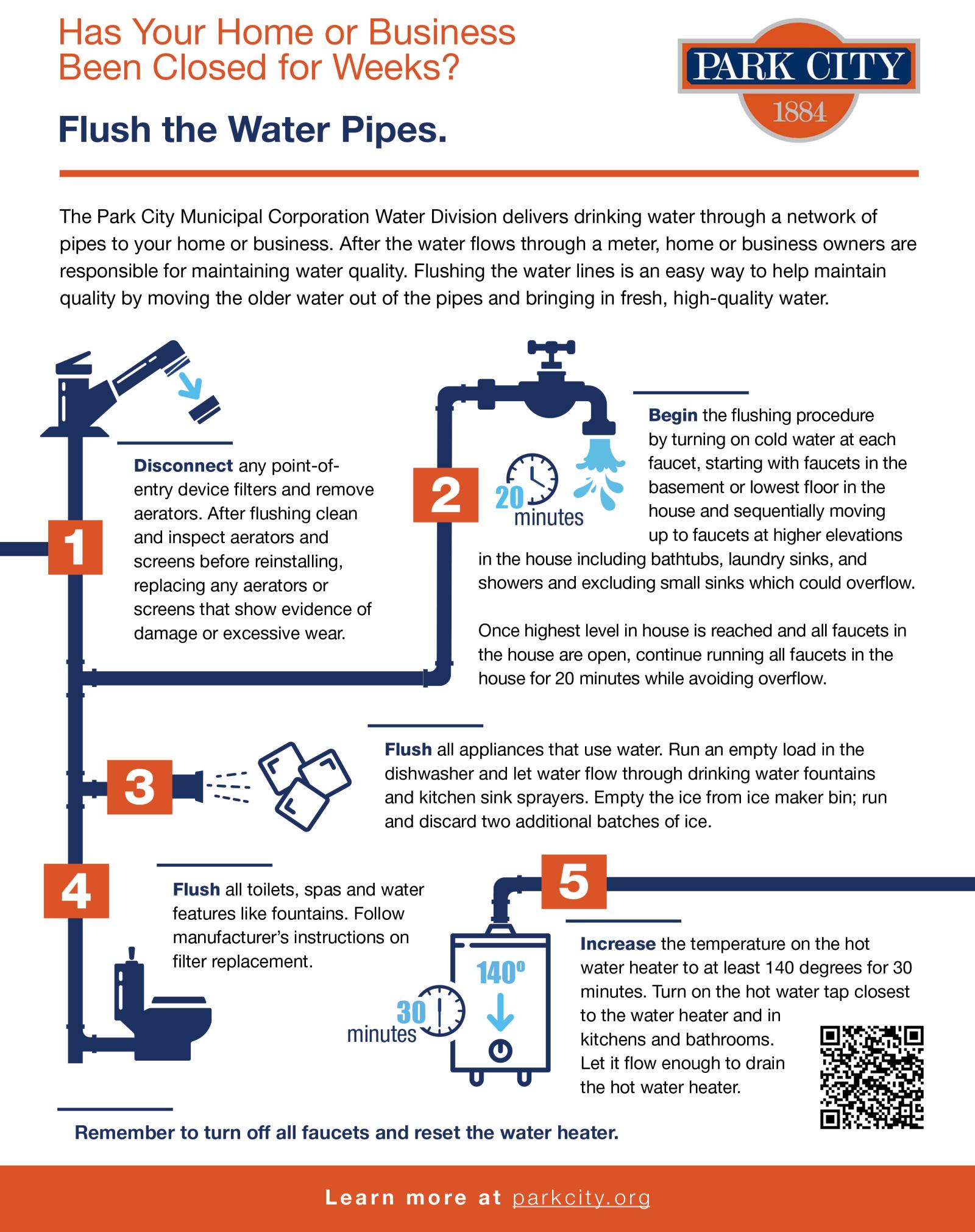 Questions?
For more information, call the Park City Municipal Water Department at 435-615-5335.