2022 Business License Fee Study
Park City Municipal is conducting a comprehensive business license fee study, which was last updated in its entirety in 2006. The cost of providing services has increased over that time, and therefore we expect the fees to obtain a business license to increase. This trend is consistent with other jurisdictions, particularly those with tourism-related economies.
Per Utah Code § 10-1- 203, a municipality may assess a "base fee" to cover its administrative costs of issuing business licenses.
In addition to covering administrative fees in a base fee, a municipality may also charge a licensee additional costs for "disproportionate" or "enhanced" services including, but not limited to:
Police
Fire stormwater
Traffic control
Parking
Transportation
Beautification
Snow removal
The City Council has discretion to apply some or all enhanced service costs for business based upon the different classes of business. Utah municipalities can choose to subsidize fees for a certain type or location of business but assess all the service costs to others.
Background
Business licenses in Park City are administered through the Finance Department. Currently, licenses renew on October 1 annually, with new licensee's paying a prorated monthly fee as they come in. Renewal notifications are sent in August annually. The current administrative fee to obtain a business license for most businesses is $149. A renewal is $22.
History
From 1998 to 2006, the City business license had two components: a $46 administrative fee and an enhanced service fee that partially subsidized (approx. 22%) the free bus system (calculated differentially depending on the type of use and business unit (number of rooms, size, etc.)). The administrative fee is charged to every business and covers the City's administrative costs to process applications and conduct field inspections, code enforcement, and other city overhead costs such as software, materials, supplies, and utilities.
In 2006, a comprehensive business license fee study was conducted. At that time, Council adopted a 25% increase to the Transit Service Enhancement Fee for most business classes, which was phased in over the next three years in order to reduce the abrupt impact on local business (5% in 2007, 10% in 2008, and 10% in 2009) (report, p. 66, minutes, p. 1). Council also adopted a Festival Facilitation Enhanced Service Fee to shift a portion of the costs of subsidizing events from residential taxpayers to the business community. The fee was calculated on a sliding scale proportionate to the degree a business benefited from special events.
In 2009 (Jan 8, 2009 report, p. 79, minutes), (June 11, 2009, p. 9, minutes, p. 2), Council reduced fees for license renewals to recognize that less staff time was required to process a renewal versus a new license. Council also determined that each unique location conducting a nightly rental should have an individual license instead of the practice at the time where a management company with multiple properties would have a blanket or umbrella license for multiple properties. At that time City Council agreed to incremental increases in fees to get to 40% total cost of recovery of services, with the goal over time to get to zero subsidy. Which has not been realized at this time.
Convention and Sales Licenses
In 2000, PCMC added a $250 fee for each temporary, Convention and Sales business license during Sundance (minutes, p. 3) to cover increased staff costs. In 2017, additional fees were added to each Type 2 CSL, including a $100 deposit to Republic Trash, an additional $149 administrative fee, $45.58 for enhanced enforcement (public safety), and the $243 Business Improvement District fee were applied (report, p. 107, minutes, p. 7).
Business Improvement District (BID)
In 2007, The merchants on Main Street asked the City to adopt a Business Improvement District (BID) and add a $156 fee to each of their business licenses to pay for an Executive Director, manage their solid waste service provider, and allow for business marketing and promotion - Bid History (p. 249) and Minutes. In 2010, Council approved the HPCA request to increase the fee to $243 annually to increase staff salary and increase promotion and branding services (report, p. 83, minutes, p. 9).
Typical Business License Costs
The City's current Fee Schedule (p.15), identifies existing costs for services by business class. Different classes of business have fees by type based on amount of services they require. The unit type (skier day, square foot, per bedroom) also varies across business classes. Below identifies a few typical scenarios/costs: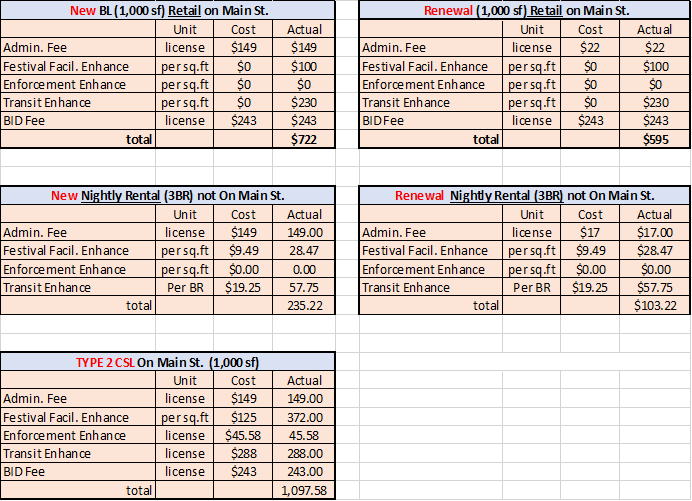 Timeline (2022)
June 16: Business License Fee Study Preview - Council Budget report
June 23: Staff communication on Fee Study (this report)
July 1: Completion of Base Fee Study (ID estimated fee increase)
July 2-21: Outreach to stakeholders
July 14: Council meeting. Public Hearing. No action
July 21: Council meeting. Public Hearing, possible action on new base fees
August 1: Notice to all business licenses to renew by October 1 deadline
August 1: Completion of enhanced and disproportionate studies
August–September: Additional outreach with stakeholders
October: Adopt new enhanced and disproportionate fees
Over the next several months, we are likely to ask Council to first adopt an updated base administrative fee schedule, and then consider applying enhanced and disproportionate service fees over time.
Questions?
Contact jweidenhamer@parkcity.org.