Seeking Applicants for Park City Planning Commission
Post Date:
11/08/2018 3:44 PM
There are two (2) commissioner vacancies on the Park City Planning Commission, some of which may be filled by re-appointment. The application deadline is Monday, December 10 by 5:00 p.m. Commission members must be residents of Park City. The Commission meets regularly on the 2nd and 4th Wednesdays of each month at 5:30 p.m.
The Planning Commission was created pursuant to the Utah Code. Their scope of review includes, but is not limited to, Annexation requests, Subdivisions, Record of Survey plats and Plat Amendments, Master Planned Developments, and Conditional Use Permits.
Applications are available at the Park City Planning Department at 445 Marsac Avenue and online here. Please contact Liz Jackson for more information at 435.615.5065 or liz.jackson@parkcity.org.
The Planning Commission reviews a wide range of topics. Appointments to the board are made to represent the interests of all Park City residents. Community members with experience in education, healthcare, outdoor recreation, or any background that will offer a unique perspective(s) of Park City are welcome to apply.
Learn more about Park City's Planning Department and the Planning Commission on the department page.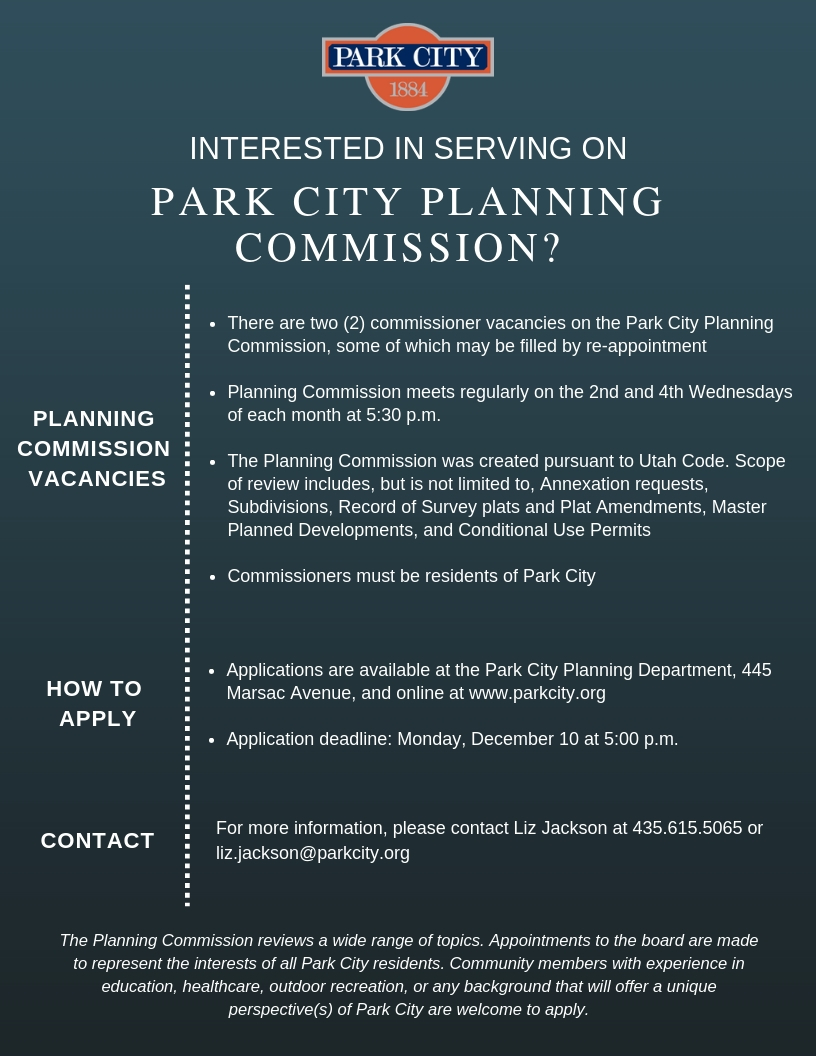 Return to full list >>
Park City is making progress towards net-zero carbon. Want to learn more about our work? Get in touch!