PCMC Newsletter-January, 2011

| | |
| --- | --- |
| January, 2011 | Community E-Newsletter |
Park City Public Works, Snow Report
Park City has experienced what is to date the largest snowfall in the last 23 years as recorded at The National Weather Service measuring device in Thaynes Canyon. In comparison, the graph below provided by The National Weather Service demonstrates the current snow total for this year in green, what a typical or normal winter would look like in blue and last winter which was slightly below normal in red. In a typical winter for this time of year, 10 inches of water which is roughly 10 feet of snow would have fallen in Thaynes Canyon. This winter season 16.8 inches of water or roughly 16.8 feet of snow has arrived to blanket the slopes in Park City. Good news for skiers but often bad news for homeowners who have already shoveled the equivalent amount of snow that wouldn't have been experienced until February 20th during a normal winter season.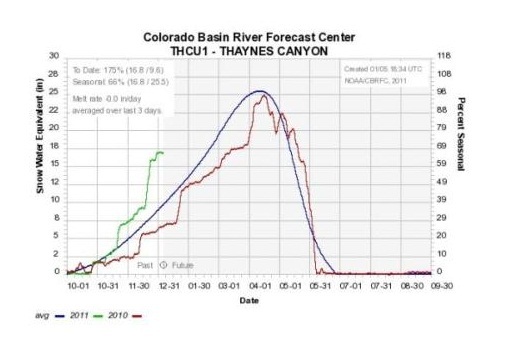 Hauling Snow Park City Style
Park City Public Works typically hauls around 15,000 cubic yards of snow during a winter season. The winter season begins November 15th and runs through April 15th. As of January 5, 2011, Park City has already hauled just over 11,500 cubic yards of snow with 3 months of winter remaining. Many areas throughout Park City have already benefited from the efforts of our snow hauling crews.

Hauling snow is a time consuming and extremely expensive undertaking. It costs as much as $2,000 per hour for a crew to haul snow from Main Street, lower Park Avenue and lower Empire Avenue. This operation generally takes about 10 hours to complete at a cost of about $20,000 per event.

Did you know?
It is every resident's responsibility to remove snow from fire hydrants which are located at the perimeter of your property.

Winter Parking Tips
Respect parking restrictions to help snow plows navigate narrow streets
In Old Town, do not park on the downside slope of any street. Cars that remain on the street and restrict plowing may be ticketed and/or towed. Read our Snow Removal Guide.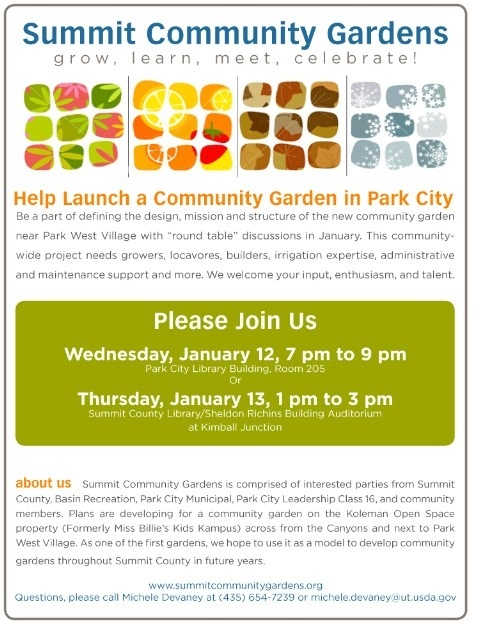 Park City Winter Trail Survey

Park City Municipal Corporation is asking trail users to provide input on the local winter trail system.
Over the past several years, local entities have worked to provide additional opportunities for winter recreation outside of traditional alpine skiing. For the most part, these opportunities have resulted from 'grooming services' on local trails. These services have provided significant access to areas that were once limited to more active or well- conditioned users, including cross country skiing. Since 2007, the amount of available groomed trails in the Park City area has more than doubled to almost 70 kilometers.
As part of the overall trail system management, trail counters have been used to gauge the actual number of users accessing the system. As of today, PCMC is sponsoring a web-based survey to collect further information pertaining to types of use, perceived conditions and amenities of the system. The survey timeframe is January 11-31st, 2011. for the survey. It only takes a few minutes and all trail users are encouraged to participate.
Park City Hits the Big Apple's Top Places To Go List
According to an article in the January 7, 2011, New York Times, Park City is number 9 on the list of top 41 places to go in 2011. Skiers and boarders alike have always been lured to Park City for the snow. With terrain expansion and new hotels at area resorts, on-mountain exploration is a not-to-be-missed experience. The Sundance Film Festival brings film aficionados here as well. There were only five U.S. cities included the in top 41locations.
Sundance Survival Tips
Avoid delays and miss much of the Sundance Film Festival traffic by doing your errands early in the day. Consider alternative transportation . . . riding the bus or walking are your best options. You will save time and reduce your carbon footprint by minimizing travel during the Festival, January 20-30, 2011.
Recreation Center Remodel Update
The Recreation Center Remodel project is proceeding on schedule despite the above average snowfall this past month. The steel framing and concrete block walls are underway and noticeable progress should be made through the month of January. Sustainable efforts continue on the project, where 100% of the waste since the demolition has been recycled. The recycled waste consisted of 4000 pounds of concrete generated by cleaning out the concrete trucks after placement. The project team will continue to track and provide updates on the sustainable practices employed on the project.
Leadership 101
Leadership 101 is an instructive and fun, one-day insiders' view on who things work in the greater Park City Area. Whether you've been here a day or a lifetime, you're certain to learn new and interesting things about our community. Join us for the 14th annual Leadership 101 class on Wednesday, February 2, 8:30 a.m.-5:00 p.m. at the Marriott Hotel and Conference Center, 1895 Sidewinder Driive. Read more and register
City Council Adopts Anti-Idling Ordinance
Park City is the first community in Utah to adopt an anti-idling ordinance and joins a growing number of communities across the country that have taken this step to protect air quality, improve public health, and conserve natural resources. The ordinance prohibits vehicles from idling for longer than three minutes within City limits, with exceptions for certain circumstances (e.g., temperatures below 32 degrees F). More information.
News You Can Use
In December, City Council . . .
• Appointed Linda McCausland to the Public Art Advisory Board
• Approved an Environmental Sustainability Letter of Intent with Summit County
• Modified the contract with Stanley Consultants for the Bonanza Drive Reconstruction Project in a amount not to exceed $141,845
• Accepted the Comprehensive Annual Financial Report for 2010
• Approved a Contract Change Order with Granite Construction for Phase 2 of Bonanza Drive in an amount not to exceed $737,344.
• Approved an anti-idling ordinance within the city limits of Park City

Green Your Routine
Did you know there is more regulation of tap water than bottled water… Save over $100 per year by replacing two 1/2 liter water bottle purchases each week with filtered tap water at home.



Return to full list >>
There are many ways you can save energy and resources, and that can add up to financial savings as well!
Business
Home
Lifestyle
Transportation
Water
Waste
Do you have a story of how you've saved energy, water, or materials that you would like to share? We would love to hear about it! Get in touch!