Prospector Avenue: Bonanza Drive to Sidewinder Drive
Construction Update
Prospector Avenue Road Construction begins July 11
The long-anticipated improvements to Prospector Avenue are on their way. Construction
will begin July 11th and the contractor will be on site 7 a.m. to 5 p.m., Monday through Friday and some Saturdays .
Information you need to know:
Prospector Avenue will be in a one-way traffic (east to west or clockwise) configuration during construction to expedite the contractor's schedule and provide a safe work zone – beginning July 11 from Sidewinder to Poison Creek. Beginning July 16, the one-way configuration will be in place from Sidewinder to Bonanza Drive.
Business access will remain open at all times. If more than one access is available, crews will close
one access but one will always remain open.
Park City bus stops will be maintained on Prospector Ave, but school buses have been relocated to
Bonanza Drive.
Pedestrian access will remain open on one side of the road. Please pay attention and follow all signs.
On-street parking will not be permitted – please make best use of all Prospector Square parking.
Garbage and mail delivery will be maintained.
The project team will share information about the upcoming construction activities, necessary adjustments to the travel lanes during construction, and keep the public updated on the overall schedule.
Questions regarding the project in general, can be directed to Aubry Bennion, Public Information Manager, at 801.904.4064 or prospectorave@utah.gov
Project Overview
Park City Municipal Corporation in coordination with the Utah Department of Transportation is improving Prospector Avenue between Bonanza Drive and Sidewinder Drive. The project will enhance and promote alternative multi-modal transportation uses and address roadway infrastructure needs by:
Creating a safe environment for all modes of travel
Reducing vehicular speeds by introducing a "complete street" cross section
Defining more efficient use of existing space by better marking travel lanes and bus pullouts
Upgrading the street lighting with LED fixtures
Improving the roadway drainage
Resurfacing the asphalt pavement
The project team is working closely with the Prospector Square Property Owners Association to coordinate with their recently completed Master Plan.
Public Outreach
A copy of the Meet the Contractor Open House flyer is available below. The meeting was held on June 28, 2018 from 5:30 - 7:00 pm at the Park City Marriott to introduce the contractor to the community. The presentation boards are available at the following links.

MEET THE CONTRACTOR OPEN HOUSE PRESENTATION - JUNE 2018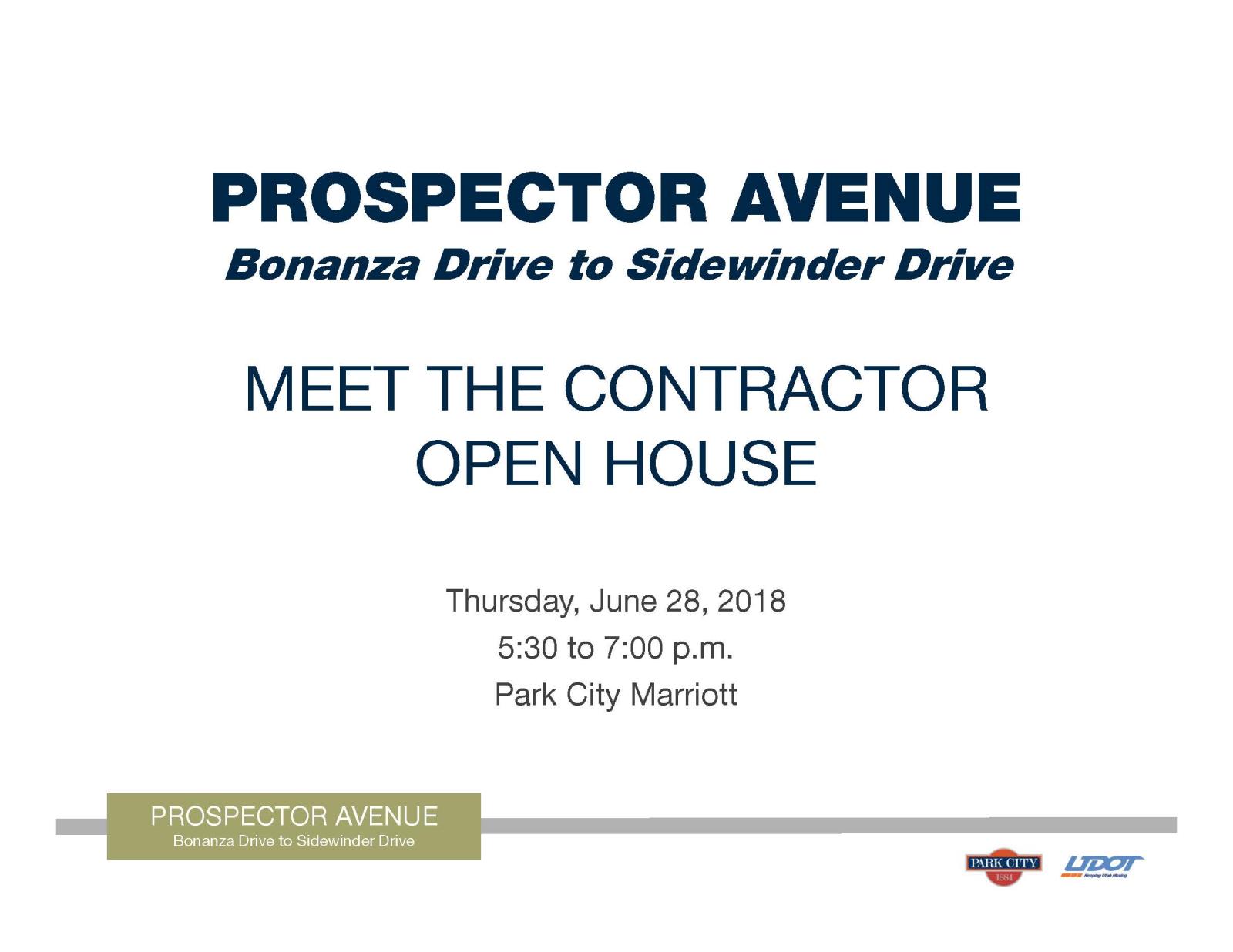 Park City hosted an open house on Tuesday, November 29th, 2016 to provide an opportunity for the public to learn more about the improvements along Prospector Avenue between Bonanza Drive and Sidewinder Drive. The information boards and the project map presented at the meeting available at the following links: