Pay-and-Display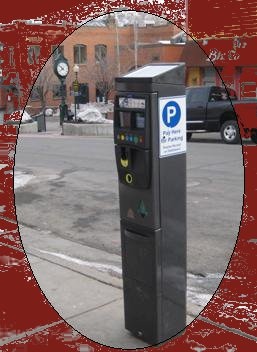 The system is as the name and implies: pay at any pay station on Main Street or in the Brew Pub Lot and display your receipt time side up on you vehicle dashboard. (Motorcycles should display where visible -- a rubber band holding the pay stub around a handlebar works best).
Benefits to the motorist are:
Pay stations allow multiple payment options, such as coins, credit cards and tokens.
Receipts are printed for tax records and dispute resolution.
One receipt can be used for several errands at different ends of town.
If you frequent downtown often, and digging for change or using a credit card is not your cup of tea, Park City has some prepaid options available, the Quickcard or the In-Car Meter.
Tokens
Each Park City parking token is worth 50 cents or twenty minutes of parking time. You can purchase tokens at Public Works at 1053 Iron Horse Drive or at businesses on Main Street displaying the "Parking Tokens Available Here" sign.

If you are a Main Street business owner and would like to make tokens available to your customers, please call or visit Public Works. As a business owner, tokens offer you the opportunity to give your potential customers a positive first impression.

Appealing a Parking Citation or Impound
Park City Municipal Corporation has elected to utilize an administrative appeals review process for individuals who believe their parking citations or impound requests were issued in error.
The administrative review process consists of two appeal levels:
The issuing agency reviews the ticket or impound record for errors upon appeal request receipt.
An administrative adjudicator reviews the written appeal, the ticket or impound records, and all submitted evidence, then renders a decision.
Important things to remember:
Your written appeal must be submitted to Parking Services within 10 days from the date of the citation. Do not pay the appealed citation unless the ticket is upheld.
Attach to your written appeal a photocopy of your parking citation and any other supporting documentation, such as permit, vehicle owner information, police impound case number, etc.
Do not send originals. Documents will not be returned.
Incomplete information or failure to contest the citation within the 10 day time period will automatically end the appeal process and the parking citation must be paid.
The findings of the administrative review will normally be mailed to you within 14 days of the date your appeal was received.
If the results of the investigation uphold the citation, you must pay the fine within 14 days of the date printed on the mailed notification. Failure to pay the parking citation will cause late fees to increase the total fine amount. No late fees accrue during the appeal process.
All appeals must be attested with the applicant's signature to certify that all information submitted is truthful and accurate.
Send your written appeal and accompanying documentation to:
Park City Parking Services
PO Box 1480
Park City, UT 84060-1480
Tel: (435) 615-5301
Fax:(435) 615-4904